Main content starts here, tab to start navigating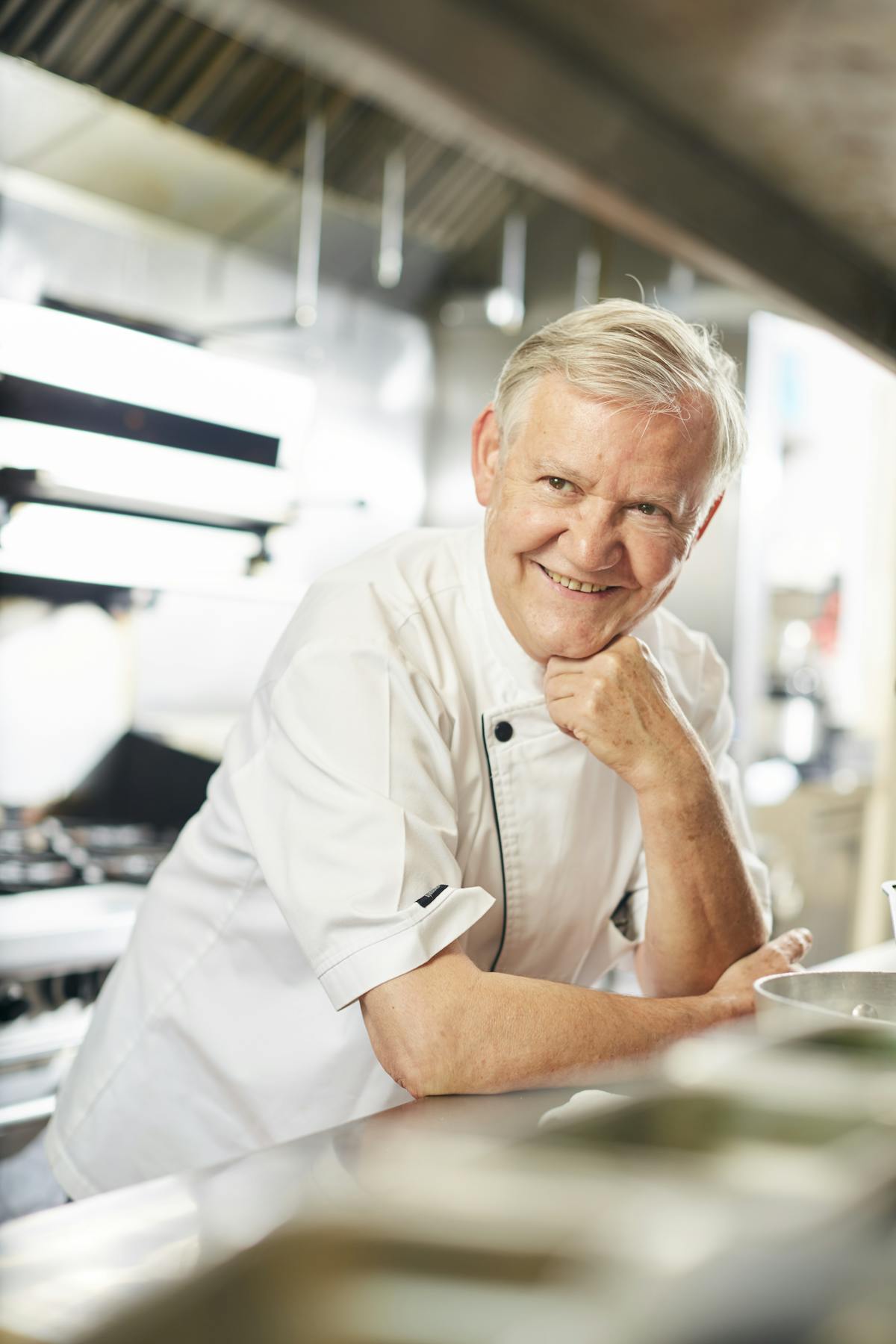 Guy Reuge
Chef Emeritus Senior Advisor
La Toque d'Argent (the Silver Toque), one of the culinary world's most prized possessions, was awarded in 2006 to Guy Reuge, Corporate Executive Chef of Lessing's, Inc., along with the title "Chef of the Year" by the Maitres Cuisiniers de France (Society of Master Chefs). Past recipients of this prestigious honor include Jacques Pepin, Daniel Boulud, Pierre Orsi, René Verdon, and André Soltner.
Born in Normandy, France and raised in the Loire Valley, Reuge began his culinary career at the age of 14 with a three-year apprenticeship in Orleans, France. Upon completion of his apprenticeship, he began the Tour des Compagnons, where he worked in restaurants in Strasbourg and Paris, France and Fribourg, Switzerland. At age 20, Reuge fulfilled his military duty as the personal chef of General Briquet, then the director of the Ecole Polytechnique in Paris, where he cooked for the French president and other dignitaries. After re-entering civilian life Reuge came to New York City in September 1973, working in various restaurants in Manhattan, including Rene Pujol and Maxwell's Plum.
Soon after, he met his wife Maria Harrison, the 1975 editor of Gourmet magazine. After testing recipes for Gourmet France, Reuge was introduced to Sally Darr, who hired him as chef at La Tulipe - one of New York City's most renowned restaurants in the late 1970s and 1980s. He also worked at Le Cygne, one of only four restaurants to receive a four-star rating by The New York Times in the 1970s. Later, he served as an executive chef at the Tavern on the Green, then one of America's highest grossing restaurants.
After spending nearly 10 years in some of the best kitchens in New York City, Reuge decided to open his own restaurant outside of the major metropolis. He and his wife launched the original Mirabelle Restaurant in an old farmhouse in St. James of Long Island, NY in 1983. The subject of a cover story in Newsday, Mirabelle Restaurant was awarded "Exceptional" (four stars). Florence Fabricant of The New York Times rated the restaurant "Excellent" (three stars) while Zagat called it, "Not widely known, but the few who know it want to keep it a secret."
After a successful 25-year run in St. James, Lessing's, Inc. invited Reuge to bring the Mirabelle name to Three Village Inn in Stony Brook, New York, where he now operates Mirabelle Restaurant & Tavern. Mirabelle Restaurant, received an "Exceptional" (four stars) rating from Peter Gianotti of Newsday stating, "The reborn Mirabelle, haute in cuisine and refined in style, improves on the original and in a handsome, serene setting. It's still a plum." Joanne Starkey of The New York Times rated the restaurant "Don't Miss" (equivalent to the former four-star or "Excellent" rating) and raves, "The move to Stony Brook seems to have revitalized the kitchen, with spectacular results." Richard Scholem, former food critic for The New York Times reviewed the restaurant for Long Island Pulse giving it a very "Excellent" (four-and-a-half stars) saying, "There are many excellent restaurants on Long Island—none are better than Mirabelle." Mirabelle Tavern garnered a "Very Good" (two stars) rating from The New York Times and an "Excellent" (three stars) from Newsday, for which Gianotti commends Reuge saying, "The star chef… jump-starts appetites and invigorates the Inn."
Outside of the restaurants, Reuge offers his excellence to all of Long Island and beyond while executing the most memorable off-premise events. Whether it be an elaborate board meeting, an intimate dinner party, or a lavish wedding, Reuge and his culinary team will deliver the quintessential dining experience for you and your guests, exceeding all expectations.
Reuge is the author of the cookbook Le Petit Mirabelle and has contributed recipes to many others. He is also involved with the All-Clad Cookware company, giving demonstrations in the use of this superior cookware in stores across Long Island. He participates regularly in culinary festivals and fund-raising events such as March of Dimes across the country. In addition, he has been a guest on several shows on the Food Network and Fox Television and has been featured in Bon Appetit, Food Arts, New York magazine, Gourmet, The New York Times, Newsday, and The Daily News among others.
Reuge is a dynamic promoter of French culinary arts. In 2001, he received the Chevalier du Merite Agricol, by the French government in recognition of his contribution to the French agriculture industry. He was inducted into the Maitre Cuisinier de France in 1990. He is a member of Le Commanderie Des Cordons Bleus, the Academie Culinaire de France, and the James Beard Foundation.